Revolutionize your smile with guided biofilm therapy
Discover the future of dental care with Guided Biofilm Therapy. Say goodbye to traditional cleanings and hello to precision, comfort, and superior oral health. Elevate your dental experience today!
Welcome to Elevate Dental
Our dental team wants to help you achieve your best smile, but our goals are so much higher than that — we also want to be a big part of the Colchester community that your family can turn to again and again! We love caring for our patients, getting to know them, watching them grow, and helping them thrive over the years. Let us be your true dental home.

What Makes Our Dental Office Unique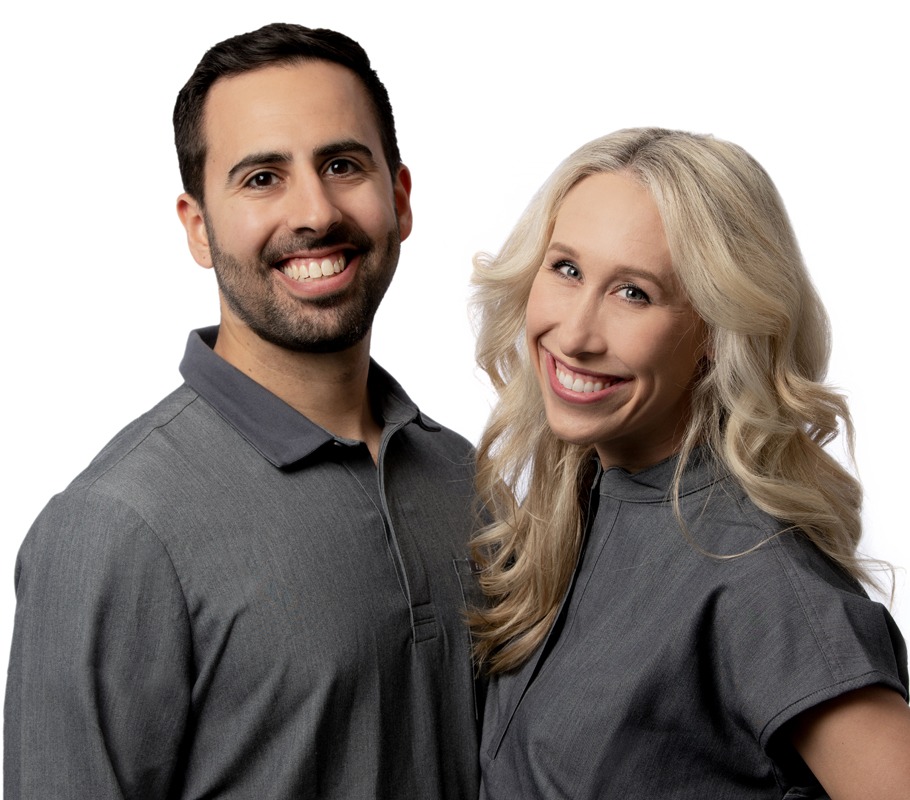 Husband & Wife Dental Office
From Our Family
To Yours
When it comes to what matters most about quality dental care, Dr. Mike and Dr. Kristen are on the same page. Due to their specialized training, each doctor brings a different set of skills and knowledge and can complete almost all treatments in-house. Dr. Mike and Dr. Kristen love to collaborate together on their patients' cases. They both believe that all patients can achieve an "elevated" level of dental health with the right tools, up to date information, and guidance by our team. Their compassionate approach involves first listening to their patients' goals and desires and facilitating their success by co-creating personalized treatment plans and coaching. Whether someone is in need of a thorough dental exam or a stunning smile makeover, they're always ready to go the extra mile and work in tandem as a team! They can't wait to meet your entire family and inspire smiles for years to come.
Meet Our Dentists
Our Dental Services
Patient-Centered Dentistry
At Elevate Dental, we're proud to offer a little bit of everything. Our doctors have completed advanced training residency programs to be able to provide a variety of comprehensive dental services. After all, each patient is different, and so are their smiles. Our team collaborates to ensure high-quality solutions for painful teeth, lost teeth, or teeth that just don't look (match) the way you want them to! Once Dr. Mike and Dr. Kristen understand your needs, they can start making recommendations for your personalized treatment plan.
We believe that each person is worthwhile, valuable, and unique. We feel it is a privilege and honor to care for our patients and our community. Our goal is to provide patients with the least amount of dentistry in their lifetime, which is why our philosophy is deep rooted in preventative care. Our patients must have a great understanding of "why" we develop disease in order to prevent it.
Explore All Dental Services

outstanding practice! Knowledgeable,
skilled, conscientious and friendly.
Cannot do better.

Top-Rated Dentist in Colchester
We Work Hard to Exceed Expectations
I'm so pleased to be a new patient at Elevate Dental! I had a wonderful experience during my first visit, from the beginning to the end of my appointment. Everyone was very professional and friendly, and I felt that my individual situation as a patient and a person was taken into consideration at every moment.
anne t. | colchester
I've had very good experiences at this office. The services have only gotten better this is a fantastic practice if you are nervous about dentistry or want extremely high quality service.
matt s. | colchester
I was so impressed with DR. Mike and the Elevate staff I will drive the 40 miles to get my dental care with them. As always, I also appreciate the spa comforts of a warm stone and heated neck wrap. I highly recommend Elevate Dental!
allison o. | colchester
Giving Back to the Community
We ♥ Colchester
Our dental team loves supporting great causes in the local Colchester community, whether that involves sponsoring a local soccer team or planning a food drive for nearby families in need! If you know of a good cause or nearby event that could use our help, don't hesitate to let us know.

follow us on insta @
elevatedentalvt