Guided Biofilm Therapy – Colchester, VT
State-of-the-Art Technology for Exceptional Teeth Cleaning
Most dentists recommend routine visits every six months for checkups and cleanings. Routine visits can prevent problems from developing and catch any warning signs early. However, these visits usually involve the use of hand instruments and abrasive pastes to clean your teeth which can often feel uncomfortable for some patients. Instead, our team offers guided biofilm therapy (GBT) with Airflow Technology to thoroughly remove plaque and harmful bacteria. Most patients say their experience is completely pain-free! Read on to learn more or call us today to schedule your visit.
What Is Guided Biofilm Therapy?
Let's talk about Biofilm first. This is the sticky substance you feel hours after you eat and drink sugary foods and carbohydrates. If not cleaned twice a day, this substance can accumulate, and the bacteria can grow and recruit other bacteria. The bacteria in the biofilm can lead to oral and systemic complications such as decay, halitosis (bad breath), gum or periodontal disease, and even diabetes, stroke, Alzheimer's, and cardiovascular disease.
Guided Biofilm Therapy uses a tiny sugar molecule called Erythritol and water to spray away bacteria on teeth and roots. We guide the removal of bacteria by first using a disclosing agent to dye your bacteria purple and then wash it away. This advanced dental hygiene system has been used a studied in Europe since 2011. It's recently gained popularity in the United States, and we are the first practice to offer this to our patients in the state of Vermont! This system is also a product of extensive clinical research by top specialists, ensuring high-quality and consistent results. This is no doubt the future of dentistry!
How Does Guided Biofilm Therapy Work?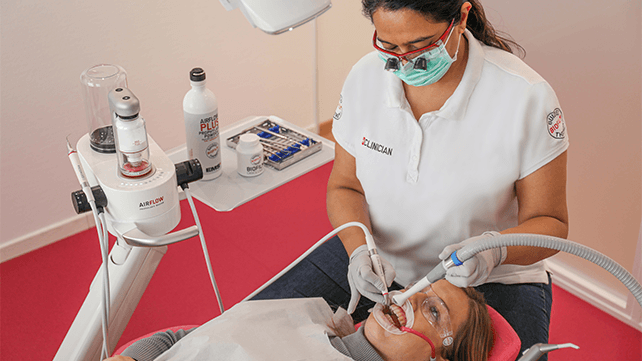 After our team has evaluated your oral and systemic health and addressed any underlying issues, we will typically move on to performing your teeth cleaning treatment.
We will apply a dye to your teeth that will make any bacteria visible to us. We will give you a mirror to review the areas of bacteria accumulation on your teeth and roots –these are areas you may be missing when brushing and flossing. It's a great learning tool and reveals to you areas of improvement needed in your daily oral health routine. After that, we will use Airflow technology to remove bacteria build up. This gets up to 4mm under your gums! If there is any calculus left after the Airflow, we will use the Piezo to safely remove the hardened mineralized tartar. Once we have eliminated the biofilm, we do recommend the application of topical fluoride to decrease post op sensitivity and protect your pearly whites.
The Benefits of Guided Biofilm Therapy
Guided Biofilm Therapy is an incredibly innovative and advanced system of dental hygiene, allowing you to enjoy multiple essential benefits during your appointment, such as:
A safe and effective removal of biofilm
Less invasive and gentle treatment
Improved ability to remove stains
Reduces time needed in the dental chair