Dental Implants – Colchester, VT
You Don't Have to Live with Missing Teeth
Dental implants are the best option in tooth replacement, as they are the only method that provides a truly comprehensive solution to tooth loss. By replacing the entire tooth structure, implants stabilize the jaw, prevent bone resorption, protect your oral health, and promote better overall wellbeing. To make it easy and convenient, our trusted dentist can perform every step of the procedure, including the dental implant placement and final dental restoration, here at Elevate Dental. You don't have to live with missing teeth if you don't want to, so give us a call today to schedule your consultation to discuss tooth replacement with dental implants in Colchester, VT.
Why Choose Elevate Dental
for Dental Implants?
Replace Any Number of Missing Teeth for a Lifetime
Entire Dental Implant Treatment Conveniently Completed Under One Roof
High-Quality Materials for Beautiful, Long-Lasting, and Reliable Results
What Are Dental Implants?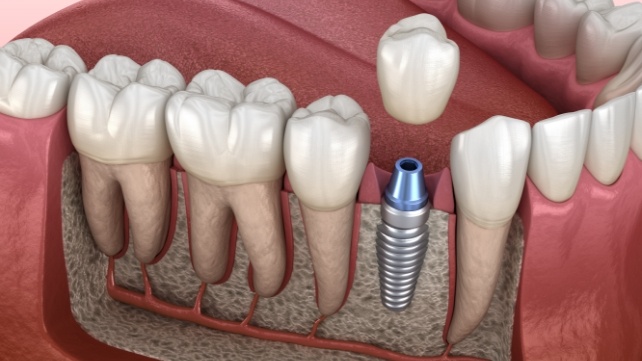 A dental implant is a small, screw-shaped titanium post that can be inserted directly into the jawbone where a missing tooth once was. Thanks to its biocompatible nature, it will fuse with the surrounding bone tissue to effectively replace the missing tooth's root structure. Not only does this provide a strong, life-like foundation for the replacement teeth it supports, but it stimulates blood flow in the jawbone to keep it strong and healthy. A small connector piece called an abutment on top of the dental implant will secure the custom restoration, which could be a crown, bridge, or denture depending on how many teeth you're missing. Rebuilding your missing teeth from the roots up gives you a smile that looks, feels, and functions just like natural, which is why dental implants are widely considered the gold standard of tooth replacement!
The Dental Implant Process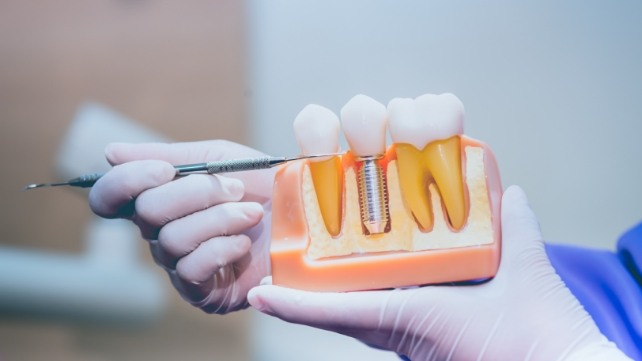 Getting dental implants requires a multistep process that will span the course of several months. While this may seem like a long time, the results will be well worth the wait! Before you know it, you'll have a strong, healthy smile that has the potential to last a lifetime.
Every dental implant treatment varies slightly depending on the unique goals and needs of the patient. First, some patients will need to undergo preparatory procedures before they can successfully get dental implants; those suffering from deteriorated jawbones, for example, might need to get bone grafts. Then there's the actual surgery to place the implant posts followed by a few months of healing. At the end of the 3-6 months-long recovery period, an abutment might be placed depending on the type of restoration. And finally, of course, there's the creation and placement of the actual replacement tooth or teeth.
Benefits of Dental Implants & How Dental Implants Can Change Your Life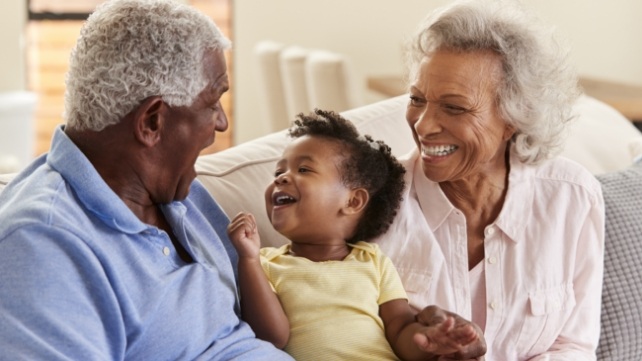 While traditional tooth replacement options like dentures and dental bridges only replace the crowns of missing teeth, dental implants replace the entire structure, which allows them to provide a host of unique benefits like:
Stimulates blood flow in the jawbone to prevent deterioration
Eliminates the need for additional products like denture adhesive
Gives you the freedom to eat hard, tough, or crunchy foods similar to natural teeth
Provides a natural, comfortable feel that doesn't cause gum irritation or tooth sensitivity
Can last a lifetime with great oral hygiene habits
Has a high success rate of over 95%, even 10 years after placement
When all of these benefits come together, the result is a smile that looks and feels like your own. This not only enhances your oral health, but your self-confidence as well. Most patients only regret that they didn't get dental implants sooner!
Who Dental Implants Can Help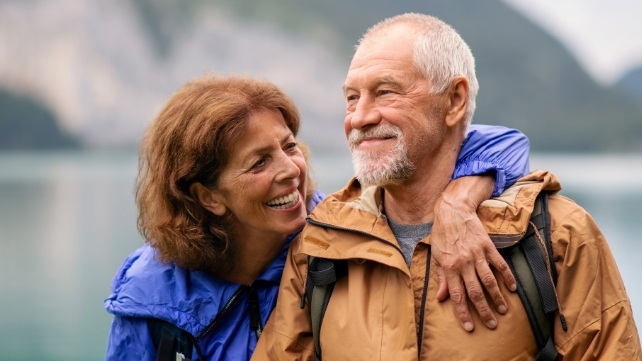 Generally speaking, good candidates for dental implants are healthy enough for minor surgery, are in great, stable oral health, and have sufficient bone structure to support dental implants. If you've gone for a while with missing teeth, we may recommend a preliminary bone augmentation (bone grafting, sinus lift, etc.) to create sufficient space for the dental implants.
However, you'll be glad to know that, whether you're missing one tooth, several teeth, or all of your teeth, there's a way that dental implants can restore your smile.
Missing 1 Tooth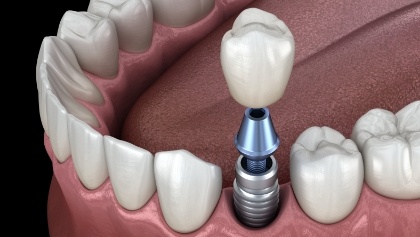 For just one missing tooth, we'll attach a single dental crown to your implant. To make sure it blends in seamlessly with your smile, we'll precisely match it in shape and color to your other teeth.
Missing Multiple Teeth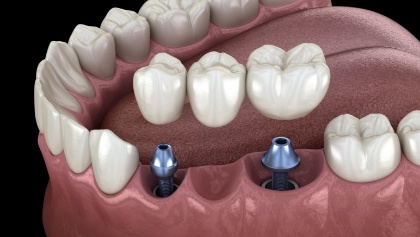 If you're missing several teeth, a single implant can be used to anchor a dental bridge and replace several teeth at once.
Missing All Teeth
If you're missing all the teeth in the upper or lower arch (or both), an implant denture will provide superior strength, stability, and chewing function over that of a traditional denture. These "fixed hybrid dentures" typically consist of a custom milled titanium bar over which porcelain crowns are fused. These fixed full arch solutions prove up to 95% the biting function of a full set of normal teeth! In some cases, these teeth can be fixed on implants the same day they are placed with proper planning.
BioHorizons Dental Implants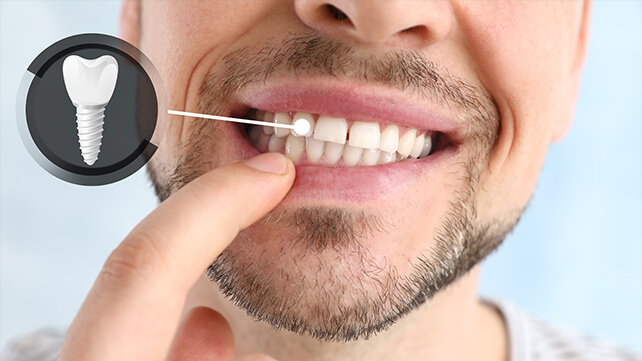 Patients often don't realize that implants can be made out of many different materials, and we only use those that meet the highest standards of quality. BioHorizons dental implants are made out of a proprietary biocompatible titanium alloy. Through extensive research, they have been shown to be extremely reliable, being trusted by dentist and patients around the world. If you're looking to rebuild your smile using the best tooth replacement options available, be sure to ask about BioHorizons dental implants.
Learn More About BioHorizons Dental Implants
Understanding the Cost of Dental Implants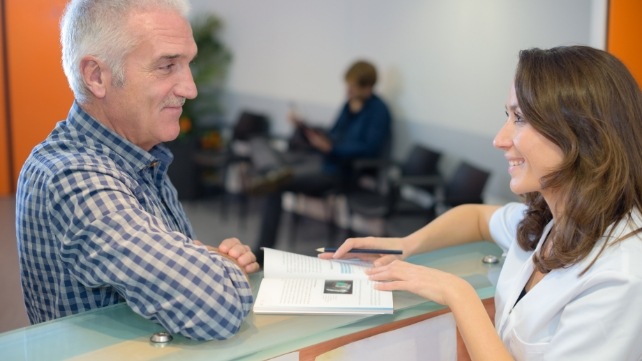 After hearing about the many benefits of dental implants, the first question on your mind is likely to be, "How much will they cost?" The answer to this question is going to be different for every patient. At Elevate Dental, we'll use the initial consultation to gather the information you'll need to make an informed decision on the procedure. We're happy to help you figure out the best way to invest in your smile.
Different Types of Dental Implants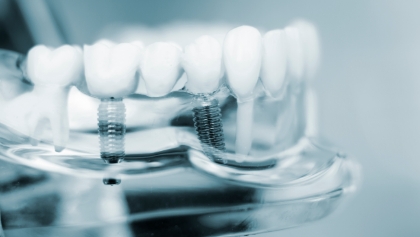 One big reason that the price of dental implants tends to vary, of course, is the fact that some patients will have more missing teeth to replace than others. The kind of empty space in your mouth is the key factor in finding the best way to fill it. For example, patients who have only lost one of their front teeth in an accident will only need one implant and a single crown to completely restore their ability to speak and chew. If an entire arch of teeth has been lost over time, however, you're likely to need 4 to 8 implants to support a full denture, which will naturally cost more.
Are Dental Implants Worth the Investment?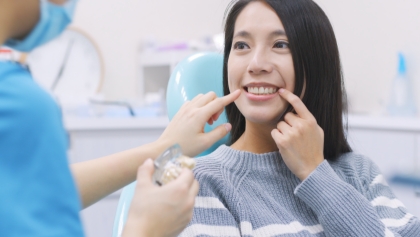 Absolutely! A great advantage of dental implants is that they're a permanent, long-term solution. Even with good maintenance, traditional dentures need to be replaced roughly every eight years; by comparison, implants can last for decades or even a lifetime. Because of this, you may end up paying less for implants over the long run than you ultimately would for other treatments.
Does My Dental Insurance Cover Dental Implants?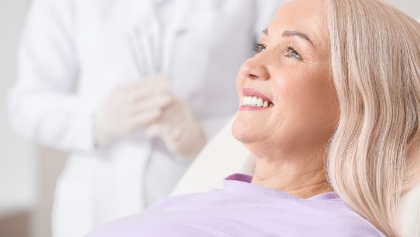 Most dental insurance plans won't fully cover implants, although every company is different. Since implants are becoming more common, more plans are covering them. Alternatively, sometimes your plan can help by paying for treatments related to the implant process; for example, if you have gum disease, your insurance might at least partially cover periodontal therapy.
We'll help you review your benefits and can file your insurance claims for you to ensure that you maximize your benefits. We also offer CareCredit as a low to no-interest financing option for certain applicants depending on their qualification