Implant Dentures – Colchester, VT
Reclaim a Reliable Smile
If all of your natural teeth are gone, you're probably all too familiar with the challenges that accompany eating, speaking, and even smiling. Even replacing your teeth with a denture isn't quite the same, as it eventually loses its fit and starts slipping out of place. Fortunately, there's an easy way to make your full denture just as secure as natural teeth, and that's by anchoring it onto dental implants. Here at Elevate Dental, the husband-and-wife team of Dr. Mike Gibilisco and Dr. Kristen Gibilisco would love to help you reclaim a reliable smile with implant dentures in Colchester, VT. Learn more by calling our office and setting up a consultation!
Why Choose Elevate Dental
for Implant Dentures?
Start-to-Finish Dental Implant Care in One Location
Digital, Putty-Free Dental Impression Technology
Cone Beam CT Scanner for Extremely Precise Treatment
What Are Implant Dentures?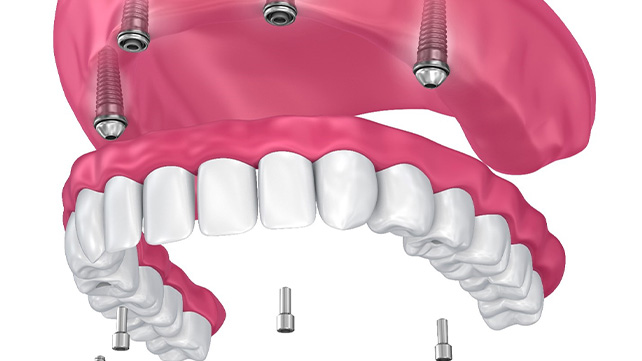 A regular denture sits directly on the gums, staying in place with natural suction and/or adhesive. In contrast, an implant denture is secured onto a specific number of dental implants – prosthetic tooth roots – that are embedded in the jaw. The implants integrate with the jawbone, forming a bond that prevents your prosthetic teeth from slipping.
You may receive one of two types of implant dentures, based on your preferences and needs:
Fixed/Permanent Implant Dentures
An implant denture can be fixed onto the implants that support it, so it can remain in your mouth at all times. This allows you to brush and floss your new teeth as if they were your original ones. Only a trained implant dentist in Colchester will be able to remove your prosthesis. A permanent implant denture typically requires four to eight implant posts throughout the jaw for support.
Removable Implant Dentures
We can also design your denture in such a way that you can "snap" it onto and off of attachments on top of the implants. Because you can take this type of implant denture out of your mouth at any time, it may be an easier solution for patients who are already used to removing a denture for daily cleaning. Additionally, this option generally requires fewer implants (between two and five, in most cases), making it ideal for patients who have lost bone density in the jaw.
The Implant Denture Process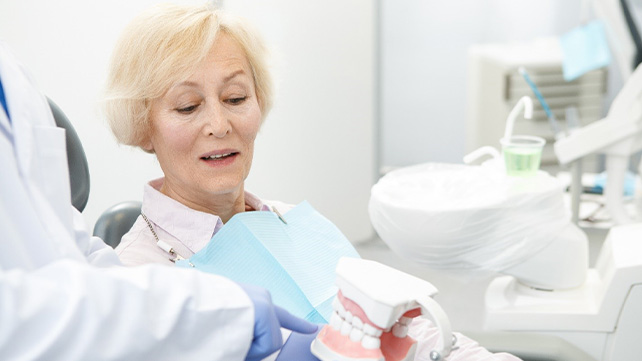 The process of getting implant dentures will look slightly different for every patient. Luckily, our team can perform every step of the treatment in-house. Dr. Kristen is even a Fellow of the International Congress of Oral Implantologists! The implant denture process usually involves:
Attending an initial consultation to plan out your treatment.
Completing any necessary prep work, such as bone grafting or tooth extractions.
Surgically positioning the implants into your jaw.
Waiting up to six months for the implants to fuse with your jawbone.
Installing attachments onto the implants.
Designing and placing your final denture.
Although getting implant dentures takes more time than receiving traditional dentures, the long-term benefits are more than worth the wait!
Am I a good Candidate for Implant Dentures?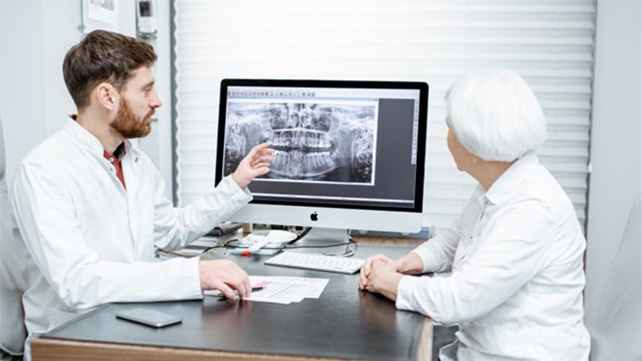 The majority of adults who have lost several or all of their teeth can qualify for dental implants in Colchester, whether that's right away or after one or more preliminary procedures. Some patients may need to undergo a dental bone graft prior to dental implant surgery, for example. For the most part, though, as long as a patient is in good oral and overall health, and is committed to maintaining good oral hygiene after receiving their implants, practically any adult can be a good implant denture candidate!
The Benefits of Combining Dentures with Dental Implants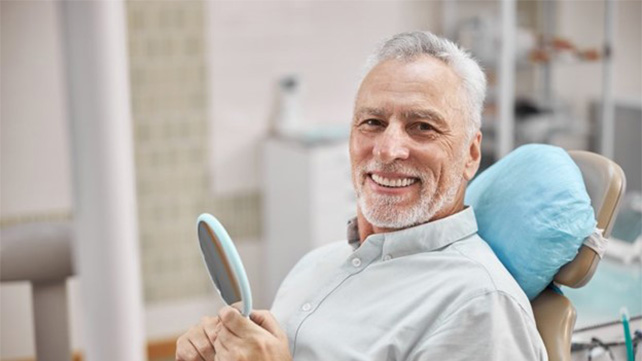 Implant dentures improve on just about every quality of regular dentures. Some of their advantages include:
Staying sturdily in place when chewing almost any food.
Never shifting or falling out of the mouth.
Preventing the jawbone from shrinking as it would ordinarily following tooth loss.
Looking and feeling quite lifelike.
Being able to last for 30+ years as opposed to the seven to ten years that traditional dentures last on average.
Saving you time and money in the long run.