Dental Crowns & Bridges – Colchester, VT
Restore Your Broken or Missing Teeth
Traditional dental crowns and bridges have long been used to restore or replace severely damaged or completely missing teeth. Whether for function or cosmetics, these restorations are both beautiful and extremely strong! Restoration with dental crowns and bridges from our Colchester, VT dentist are typically completed in two appointments several weeks apart. The first appointment involves the shaping of the teeth involved to make room for adequate material while the second is involves final cementation of the dental crown or bridge.
Why Choose Elevate Dental
for Dental Crowns & Bridges?
Lifelike Tooth-Colored Materials
Advanced Technology for Planning Treatments
Experienced Husband-and-Wife Team
Dental Crowns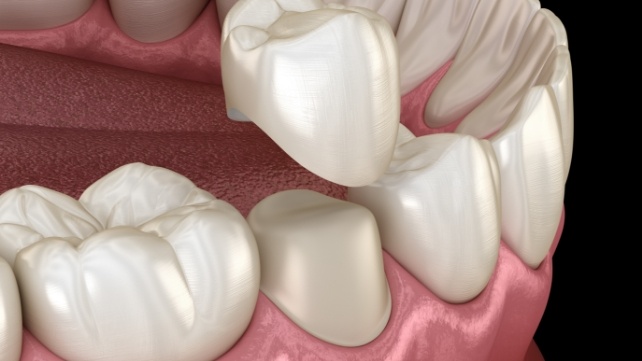 A dental crown is an extremely sturdy covering placed over a broken, weak, worn, or otherwise structurally damaged tooth. Sometimes referred to as a 'cap', a crown is like a synthetic enamel shell shaped like your tooth! Crowns can be made from a number of materials, including porcelain/ceramic, porcelain fused-to-metal (PFM), gold, and zirconia. The best material for each tooth is uniquely based on location, esthetics, and function. You and your doctor will discuss the right material for your tooth at your appointment.
Dental Bridges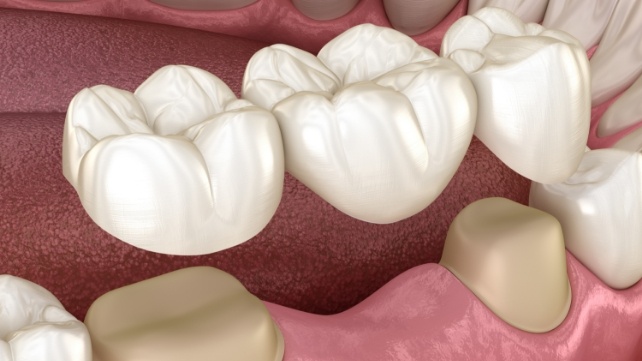 A dental bridge is made of three or more dental crowns affixed to one another. It replaces one or more teeth missing in a row. In addition to restoring the function of your smile, dental bridges prevent the surrounding teeth from drifting out of alignment and allow more fixed surface area for chewing.
To support a dental bridge, a sturdy crown is placed on each tooth surrounding the gap in the smile. Then a pontic tooth fills in the space between. A fixed bridge cannot be removed. Think of it just like any other bridge you've probably seen! It needs two supports to cross over the water. Unlike a removable partial denture, a fixed bridge cannot be removed and is cemented permanently.
Call Elevate Dental in Colchester, VT if you think you need a crown or bridge or have any questions!